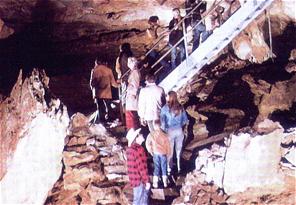 Oregon Caves National Monument
| Top of Page |
A Tour through Oregon Caves is an adventure in geology. A myriad of calcite formations decorate the cave. You will find striking parachute-like flowstone at Paradise Lost and what appear to be giant ribs as you squeeze through the Passageway of the Whale. Tiny rimstone dams resemble miniature waves on the sea. It is the drip, drip, drip of water that decorates the cave, building the bizarre and erie sculptures.
Touring Oregon Caves has been a tradition for more than a century. Today, tours are conducted by The National Park Service. Guides lead you through a one-half mile marble passage and discuss the cave's natural and cultural history and it's preservation. Tours are scheduled regularly in spring, summer, and fall. In winter they may not be available due to heavy snowfall. A fee is charged and prices are subject to change. Tours last about 90 minutes. Waiting times can reach 90 minutes in the summer. To go on the regular cave tour, a child must be 6 years old, or at least 42 inches tall.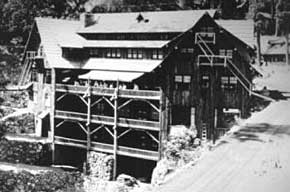 The Chateau was featured on PBS in "Great Lodges of the National Parks". Construction started in the fall of 1931, and with a small crew of 20 or less men, took 3 years to complete, cost $50,000 to build and opened in May 1934. The Chateau was added to the National Register of Historic Places in 1987. Most of the original furniture stands as it did when the Chateau opened in 1934.
Accommodations
In the park, lodging and food are available at The Chateau from May thru October. For information or online reservations visit http://www.oregoncavesoutfitters.com/ or call (541) 592-3400, or (541) 592-4440.
Chateau at the Oregon Caves
20000 Caves Highway
Cave Junction, OR 97523
Information
For more information call (541) 592-2100 or write:
Superintendent
Oregon Caves National Monument
19000 Caves Highway
Cave Junction, Oregon 97523-9716
Links
For more information about the Oregon Caves, check these websites:
---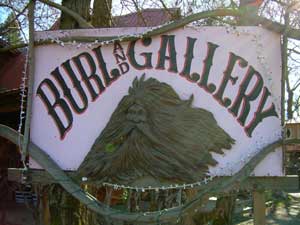 Its a Burl
| Top of Page |
is located in the historic town of Kerby. Beautifully handcrafted and very unique wood carvings and furniture. After visiting the gallery explore the yard, see several tree houses and carved wooden treasures. Plan on spending at least an hour, there's much to see here. For more information have a look at their website at:
http://www.itsaburl.com/
---
Kerbyville Museum
| Top of Page |
Relive the area's rich pioneer history. Travel back in time with a fascinating display of early gold mining and logging equipment, as well as local prehistoric and Native American artifacts at the Kerbyville Museum. Kerby, home of the Kerbyville Museum, was first named Napoleon and was the county seat from 1857 to 1886. It is said that the oak tree infront of the Nauke house was a hanging tree when Napoleon was the county seat.
Museum Phone:(541) 592-5252
---
IV Golf Course
| Top of Page |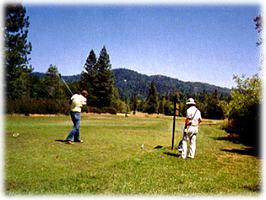 Enjoy a challenging game of golf at the Illinois Valley Golf Course located at the north edge of Cave Junction. The 18 hole, par 36 Golf Course is situated on 71 lush acres surrounded by the majestic Siskiyou Mountains.
Pro Shop
Snack Bar
Beer & Wine
For more information call (541) 592-3151
---
Illinois River Valley Visitors Center
| Top of Page |
During the summer the Illinois River Valley Visitor Information Center co-sponsors field trips including tours to the Oregon Caves National Monument, The Rough & Ready Botanical Wayside, Bigelow Lakes, Eight Dollar Mountain, Grayback Interpretive Area, and the Kalmiopsis Wilderness at Babyfoot Lake.
Advertisements will be posted in the local newspapers as to when the tours will occur, or contact the Illinois River Valley Visitor Center by calling (541) 592-4076, or visiting the website.
Guidlines For Tours
Children under 18 years of age must be accompanied by an adult.
All guests shall provide their own food and drinking water.
Hiking boots or non-slip shoes highly recommended.
Long sleeve shirts and pants highly recommended. (poison oak)
Guests should be capable of hiking a moderately difficult trail.
Seeing-eye dogs welcome, all other pets should stay at home.
These interpretive and educational field tours are provided by the Illinois River Valley Visitor Information Center with assistance from the following organizations and agencies:
U.S. Forest Service
National Park Service
Bureau of Land Management
Illinois Valley Garden Club
Josephine County Parks Department
---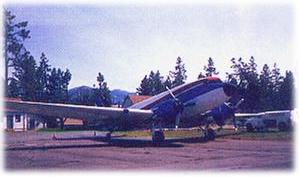 Illinois Valley Airport/Historic Siskiyou Smoke Jumper Base
| Top of Page |
Also known as the Siskiyou Smokejumper Base, the Illinois Valley Airport was built by the U.S. Forest Service as one of the original smokejumper bases in the U.S. It was in operation from 1943 to 1981, dispatching airborne fire crews to quickly control lightning fires in the surrounding wilderness areas, keeping them small and manageable.
The historic Siskiyou Smokejumper Base is located at Illinois Valley Airport south of Cave Junction and is the oldest-standing aerial firefighter base in the USA. During the past four years museum members and supporters from the local community have been working to restore buildings and retrofit the grounds back to the way it looked during its peak operation years in the late 1950s. A Twin Beech aircraft similar to the ones used during that time period was recently acquired by the museum and the plan is to retrofit the interior to look like a smokejumper plane from the 1950s. The plane will be part of the tour visitors can enjoy when they come to see the base. Visitors can enjoy a self guided walking tour of the base anytime during the day and there are often opportunities for tours of the buildings. There is no charge to visit the base or take tours.
The Illinois Valley Airport is situtated on approximately 175 acres, and is located about four and a half miles south of Cave Junction in Southwestern Oregon. It serves a population of about 17,000 people, distributed throughout several small communities. The airport, at an elevation of 1,400 feet, features a 5,200 foot lighted runway, a unicom, and beacon.
Facilities Include:
A full service FBO with fuel, hangars, and tie downs.
Siskiyou Smoke Jumper Base Museum.
Aircraft and ultra lite rentals and instruction.
Aircraft charter.
Hangar rentals.
Owner constructed hangar sites.
A parachute loft for skydiving activities.
A restaurant (closed) serving breakfast, lunch, and dinner daily.
Rustic meeting rooms.
Dorm rooms for singles or groups.
Camping area with restrooms and showers for fly-in campers.
Information about the museum was provided by Roger Brandt
More information about the museum is available here
---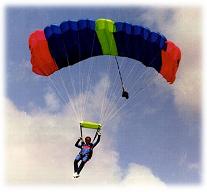 Weather and Recreation

| Top of Page |
Ideal weather for general recreation and ultralights exists throughout the year. Because of the abundance of good flying weather at the Illinois Valley Airport. It can often be used as an alternate when nearby airports are fogged-in.
Illinois Valley Airport is the site of many summer activities. The annual air show (No airshow for 2013) in September is a popular event with residents and visitors. The traditional 10 K Moon Tree Run is held in June. Frequent skydiving meets are held throughout the season and tandem jumps are available for adventurous beginners.