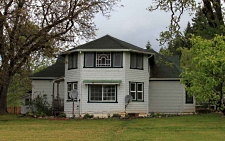 "Relax in our 100 year old farm house on a vineyard."

The Maple Ranch Vacation Home is an extraordinary Vacation Rental, located on a 112 acre spread of premium grape vineyards, ponds, creeks, and mixed forestland in the heart of southwestern Oregon's remote Siskiyou Mountains, an area renowned for its rugged geology and botanical specimens unique to any other location in the western hemisphere. This recently refreshed and comfortably appointed historic two-story ranch house is beautifully situated on a vineyard with a breathtaking view of the nearby Klamath Range on the western horizon. With five spacious bedrooms, upstairs and down, and bathrooms on each floor, it easily accommodates up to twelve people, ideal for family reunions, multi-couple gatherings, business retreats, honeymoons, or second honeymoons.

Private, secluded, and convenient to hundreds of square miles of federally protected mountain trails and tranquil backcountry roads, a stay at Maple Ranch affords unlimited opportunities for lovers of the out-of-doors. Hiking, bird watching, horseback riding, bicycling, river rafting, creek-walking, kayaking, cross-country skiing, snowshoeing, wine tasting, rock climbing, spelunking, or simply exploring one of the last unspoiled wilderness wonderlands on the Pacific west coast are but some of the readily available options to those with a heart for the rare and remarkable.

We have 5 stables available with ample trailer turnaround space for guests who wish to bring horses.

Amenities- Full kitchen, laundry, wifi, HD satellite TV, DVD, complementary bottle of wine from nearby Foris winery and bar of soap from locally owned Southern Oregon Soapworks.

For information and reservations (541)415-0193

http://www.foriswine.com/maple.htm
---
The Inn features four suites, two with spas, and a guest room. All have private baths and entrances. There is a central living area with an outdoor deck and beautiful gardens for guest's comfort.
A continental breakfast is served daily and free wine tasting is available at Bridgeview Winery's tasting room from 11:00 am to 5:00 pm daily.
24304 Redwood Highway
Kerby, OR 97531
For information and reservations (541)592-4689
http://www.bridgeviewwine.com/kerbyvilleinn.php
map and directions
---
Whispering Springs
"Your hostess Patricia Allison invites you to experience Southern Oregon at it's best in the heart of the Illinois valley."
Relax in a peaceful setting surrounded by cedars and firs
Ample acreage allows for relaxing strolls by spring-fed ponds
Beautiful vistas are complimented by indiginous wildlife
Stable facilities available
Mastercard and Visa accepted
4640 Takilma Road
Cave Junction, Oregon 97523
(541)592-2384
800-449-1173
map and directions
---
Illinois River Hideaway Vacation Rental
"A special hideaway, anytime of the year, on one of the most beautiful rivers in the West."
Nestled in the oak and pine forest of the Illinois River canyon is this charming 2 bedroom, 2 1/2 bath home. The master bedroom and bath are in the treetops overlooking a wooded creek that supplies hydro-electric power to the cottage. The master suite is equipped with TV, VCR, washing machine, dryer and queen bed.

---
Vertical Horizons Treehouse Paradise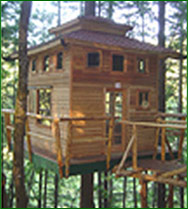 We are a Bed and Breakfast located in Southern Oregon, near the Redwood Forest and Northern California, Southern Oregon Coastline. Our Guests stay in Treehouses, each unique in design. The Breakfasts are prepared by your host, a gourmet cook (we also do our best to accommodate special dietary needs). We try our best to keep this little piece of paradise quiet and peaceful. Offering year round rentals, although Breakfast is only prepared from mid March through September, otherwise we offer a Continental Breakfast.


OREGON CAVES CHATEAU/HOTEL
at the Oregon Caves
20000 Caves Highway, Cave Junction
(541) 592-3400
map and directions

HOLIDAY MOTEL
DD Phones | Cable TV
24810 Redwood Highway, Kerby
(541) 592-3003
map and directions

COUNTRY HILLS RESORT
Motel | Cabins with Kitchens | RV's
On Sucker Creek | Open Year Round
Beautiful Private Campground
Group Gatherings & Family Reunions
7901 Caves Highway, Cave Junction
(541) 592-3406
800-99RVING
map and directions

JUNCTION INN
Motel with 60 units and Restraunt
406 S Redwood Highway, Cave Junction
(541) 592-3106
map and directions

MADRONE MOTEL
32429 Redwood Highway, O'brien
(541) 596-2498
map and dirctions
Lone Mountain RV Resort & Campground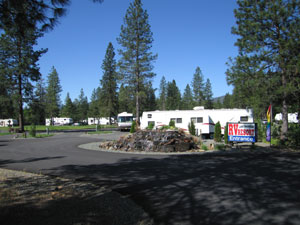 Lone Mountain RV Resort & Campground is in the picturesque Illinois Valley in Southwestern Oregon, where you can hike, golf, fish, raft, pan for gold and swim in crystal-clear water. The upscale RV park is in the community of O Brien, 5 miles north of the California border, near major tourist attractions, and within 45 minutes of six lakes and three rivers. The park sits 300 feet off Redwood Highway 199, the Mystic Corridor scenic byway that connects the Redwood National Park in California with Crater Lake National Park in Oregon.

The park has 33 RV spaces in a well-landscaped area of nearly four acres, with an adjoining nature trail and creek. There are laundry facilities, a volleyball court, horseshoe pits and a gazebo and picnic area with a barbecue. The park is situated in an ideal setting. Amenities include; Grocery Store, Post Office, McGrew's Steakhouse and a low cost Gas Station with Propane.

Lone Mountain RV Resort & Campground
169 Lone Mountain Road
O'Brien, OR 97534
(541) 596-28RV
http://www.LoneMountainRV.com/
map and directions
---

---
Area Information | Maps | Recreation | Local Pictures | Business Services | Brief History | Summer Tours
Points of Interest | Real Estate | Email Directory | Local Links | Classified Ads | Calendar | Guestbook
| | |
| --- | --- |
| ©2018, All Rights Reserved. | Contact CaveJunction.com |