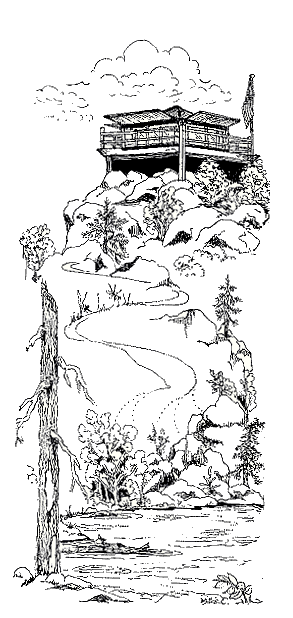 Summer Tour Program

elcome to the Illinois River Valley Visitor Information Centers' summer tour program. Today's field trip adventure takes us to beautiful Bolan Lake, located within the Siskiyou National Forest, approximately 25 miles SE of Cave Junction.
Bolan Lake, a 12 acre, high elevation alpine lake, is situated in a beautiful glacial environment surrounded by old growth fir, cedar, pine hemlock, and spruce trees. Here you may witness an abundance of wildlife such as deer, bear, pileated woodpeckers, brook trout, and several other types of wildlife residing in both the forest and lake. You will also enjoy viewing the many varieties of wildflowers that grow in the Bolan Lake area including false hellebore, yarrow, Indian paintbrush, aster, daisy, and lupine. The wild rhododendron and saddlers oak flow gently, around the edges of the alpine meadows surrounding the lake. A campground is now situated alongside Bolan Lake complete with restrooms, picnic tables, and fire pits. The Bolan Lake Trail begins in the campgrounds and extends 1.8 miles up slope to to the Bolan Fire Lookout Station.
Bolan Fire Lookout Station is located at a elevation of 6200 feet. Perched atop a craggy peak, this station overlooks not only Bolan Lake, but several mountain ranges, rivers and valleys. The views from the Lookout are more than spectacular.
On A Clear Day one can view mountain ranges in both the states of Oregon and California including Mt. McLoughin, Mt. Shasta, and The Three Sisters. Major river systems such as the Klamath River, Illinois River, and the Rogue River can also be seen.
Here At The Lookout you will experience what it is like to be a fire lookout and witness the conditions in which these brave folks live. You will also learn about the tools they use to determine the location of fires in our forests and how they use those tools. You might even hear about a particularly frightening experience the lookouts themselves have gone through while attending to their duties !
Other summer field trips include tours to:
Bigelow Lakes
Rough and Ready Botanical Wayside
Howell Memorial Botanical Drive
Grayback Interpretive Trail
Eight Dollar Mountain Botanical Area
These interpretive and educational field tours are provided by the Illinois Valley Visitor Information Center with assitance from the following organizations and agencies:
U.S. Forest Service
National Park Service
Illinois Valley Garden Club
Summer Tours Checklist Et Al
Children under 18 must be accompanied by an adult
All guests shall provide their own food and drinking water
Hiking boots or non-slip shoes highly recommended
Long sleeve shirts and pants highly recommended (poison oak)
Guests should be capable of hiking a moderately difficult trail
Seeing eye dogs welcome, all other pets should stay at home
UPDATE: The above mentioned field trips may or may not be currently available.
For more information call the Illinois Valley Visitor Center at (541) 592-4076.
Or visit the website at http://ivcdo.projecta.com/

Artwork by -Millie-
---
Home | Area Information | Lodging | Maps | Recreation | Business Services | Local Pictures | Brief History
Points of Interest | Real Estate | Email Directory | Local Links | Classified Ads | Calendar | Guestbook
| | |
| --- | --- |
| ©2018, All Rights Reserved. | Contact CaveJunction.com |